Ah les funkdoobiest un de ces groupes indispensables pour la west coast au même titre que Cypress Hill avec des classiques comme "The Funkiest", "Bow Wow Wow","Rock On", "Dedicated", "The Anthem".
Au niveau des prod c'est
DJ Ralph M
le dj du groupe,
Dj Lethal
(House Of Pain) et
Dj Muggs
(Cypress Hill) qui s'occupe de presque tout, la famille quoi. Le troisième album est un peu en dessous des deux premiers mais ça reste écoutable, si vous avez l'occasion de mettre la main sur le 12'' de Rock On n'hésiter pas y a un remix de
Buckwild
qui est très bien.
Which Doobie U B ? (1993)


Tracklist :


1. The Funkiest
2. Bow Wow Wow
3. Freak Mode
4. I'm Shittin' On Em
5. Who's The Doobiest
6. Doobie To The Head
7. Where's It At
8. Wopbabalubop feat. B-Real
9. The Porno King
10. 'Uh C'mon Yeah!
11. Here I Am
12. Funk's On Me

hit it
Brothas Doobie (1995)


Tracklist :
1. This Is It (Interlude)
2. Rock On
3. What The Deal
4. Lost In Thought
5. Dedicated
6. Ka Sera Sera
7. Pussy Ain't Shit
8. XXX Funk
9. It Ain't Going Down
10. You're Dummin'
11. Tomahawk Bang
12. Super Hoes
13. Who Ra Ra

hit it



The TroubleShooters (1997)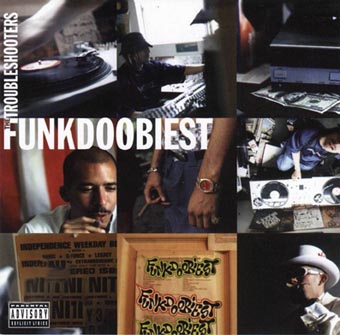 Tracklist :
1. Doobie Show
2. Papi Chulo
3. On The Premises
4. Crazy Puerto Rican
5. The Anthem
6. Alley
7. ¡Oyé Papi!
8. Sunshine
9. Act On It
10. First Million
11. Natural Fun
12. Life's A Gamble
13. Tribal Flutes
14. Five Deadly Indians
15. The Troubleshooters
16. Holdin' It Down
17. I'm Feelin' It
18. Doobie Knows
19. Stretchin'
20. Papi Chulo (spanish)

hit it